→ February 2020 - VOLUMETRIQ 4th newsletter

Fourth edition of the VOLUMETRIQ newsletter is now available for download as a PDF file: Newsletter
---
→ 21 November 2019 - FCH JU Awards 2019, Brussels, Belgium - VOLUMETRIQ Best success story
-> FCH JU Website
-> FCH JU press release

The Fuel Cells and Hydrogen Undertaking (FCH JU) has announced the winners of the 2019 FCH Awards. The successful projects reduce fuel-cell technology production costs, speed up manufacturing, develop new materials to increase fuel-cell performance and demonstrate how people can rely on hydrogen energy. Overall, they pave the way for a world-class European fuel-cell industry that sustains clean energy. The Awards were presented at a ceremony at the Royal Museums of Fine Arts in Brussels on 20 November 2019, attended by about 300 industry, research and EU representatives.
This year's Best Success Story winner: 'Driving forward fuel cell technologies', involves 5 projects (VOLUMETRIQ, INSPIRE, CRESCENDO, GAIA and PEGASUS) which are making fuel cells more affordable and competitive.
"These projects are delivering results that enable Europe to be a leader in the fuel cell technology and have a strong impact on the clean energy transition. The aim is to pry open market potential, ensuring a greener future for the EU's transport sector" said FCH JU's Executive Director Bart Biebuyck.
"EU public support is speeding forward European hydrogen and fuel cells technology. All projects exchanged material and are using each other's outcomes (...) The stack will be competitive worldwide, strengthening European jobs and industry and increasing automotive performance". Deborah Jones, coordinator of VOLUMETRIQ, CRESCENDO and GAIA and research director at the French National Scientific Research Council (CNRS).
"We are pushing industry into a new area in useful products. This technology will be a key business driver in the future". Stefan Hornauer from stack manufacturer ElringKlinger AG, in VOLUMETRIQ
"Industry suppliers are involved in the projects, which is a huge strength. The components developed are compatible with end use." Silvain Buche, coordinator of INSPIRE and from global sustainable technologies leader Johnson Matthey, who also manufacture fuel cell components.
"The best success story award proves the true value of a public private partnership in accelerating and initiating new areas of development for hydrogen technologies. Showcasing these projects highlights that Industry plays a crucial role alongside Research and the European Commission to ensure the achievement of the European climate goals while laying the foundation for a robust industrialization of these technologies. Our public private partnership impacts our ambition towards a decarbonized European society", said Valerie Bouillon-Delporte, President of Hydrogen Europe, and Chair of the FCH JU Governing Board, who presented the success story award.
---
→ 15 November 2019 - VOLUMETRIQ at FCH JU success stories

VOLUMETRIQ has jointly been nominated to participate in the competition for the best success story developed in the context of an FCH JU Project, as part of the "Driving forward fuel-cell technology" success story.
Please vote for "Driving forward fuel-cell technology" FCH JU website

→ 11 June 2019 - VOLUMETRIQ 47M progress meeting

The 47M progess meeting was held on 11 June 2019 and hosted by ElringKlinger, Dettingen an der Erms, Germany.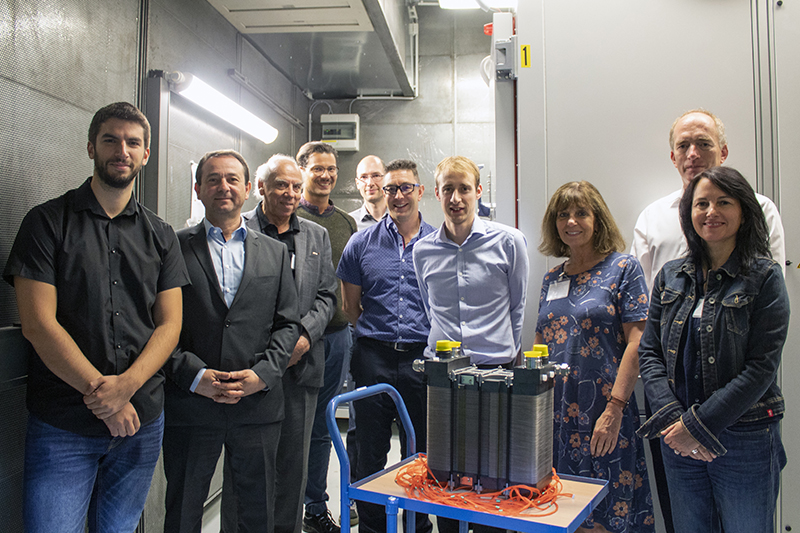 VOLUMETRIQ partners during the 47M meeting at ElringKlinger and the VOLUMETRIQ automotive stack.

---
→ 15-16 January 2019 - VOLUMETRIQ 41M progress meeting

The 41M progess meeting was held on 15-16 January 2019 in Paris, France.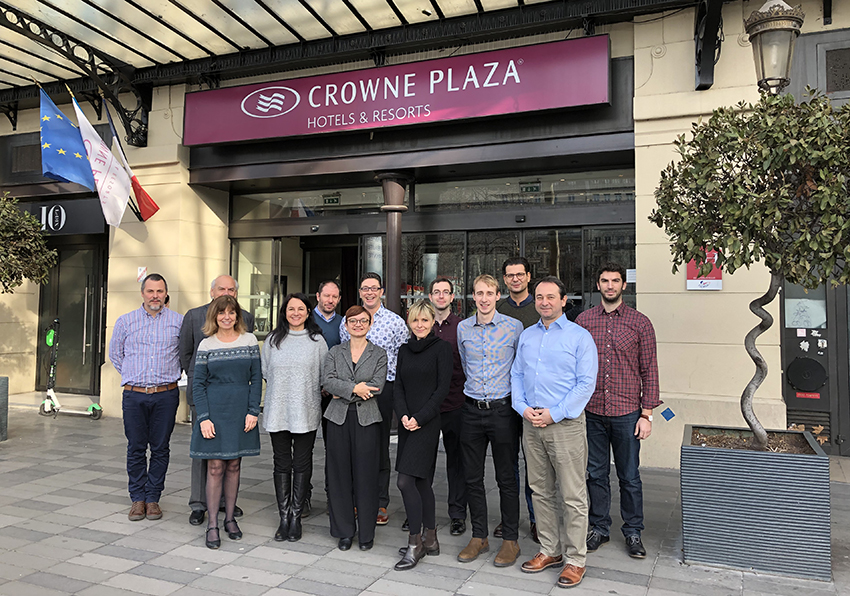 VOLUMETRIQ partners during the 41M meeting in Paris
---
→ August 2018: publication in Journal of Power Sources 396 (2018) 95–101
New perfluorinated ionomer with improved oxygen permeability for application in cathode PEM-FC, Andrea Rolfi, Claudio Oldani, Luca Merlo, Daniele Facchi, Riccardo Ruffo, DOI: 10.1016/j.jpowsour.2018.05.093
---
→

29 July-3 August 2018

-

GRC Fuel Cells conference, Smithfield, RI, USA



Poster presentation: Hierarchically Organized Nanofiber/Scavenger Consolidated PFSA Membranes, Marta Zatoń1, Nicolas Donzel1, Libeth Maldonado1, Sara Cavaliere1, Jacques Rozière1, Deborah Jones1, Luca Merlo2, Claudio Oldani2, Josef Bobolecki3, Wayne Turner3, Silvain Buche3, 1CNRS – Université de Montpellier, ICGM – Aggregates, Interfaces and Materials for Energy, 2 Place Eugène Bataillon, 34095, Montpellier cedex 5, France ; 2Solvay Speciality Polymers, Bollate, Italy ; 3Johnson Matthey Fuel Cells Swindon, UK
---
→ 14 June 2018 - Volumetriq represented at ELEN2018, Montpellier, France,

13th-15th June 2018



Oral presentation: Functional electrospun nanofibre scaffolds for PEM fuel cell membranes with enhanced mechanical and chemical stability, Marta Zatoń, Nicolas Donzel, Sara Cavaliere, Jacques Rozière, Deborah Jones, CNRS – Université de Montpellier, ICGM – Aggregates, Interfaces and Materials for Energy, 2 Place Eugène Bataillon, 34095, Montpellier cedex 5, France
---
→ 3 May 2018 - VOLUMETRIQ 33M progress meeting

The 33M progess meeting hosted by Solvay was held on 3 May 2018 in Bollate, Italy.
---
→ January 2018: publication in Barhoum A., Bechelany M., Makhlouf A. (eds) Handbook of Nanofibers. Springer, Cham, pp 1-37, 2018
Design of Heterogeneities and Interfaces with Nanofibres in Fuel Cell Membranes, Marta Zatoń, Sara Cavaliere, Deborah Jones, Jacques Rozière, DOI: 10.1007/978-3-319-42789-8_32-1
---
→ 12-12/09/2017 - VOLUMETRIQ 24M progress meeting

The 24M progess meeting hosted by ElringKlinger was held on 12-13 September 2017 in Dettingen, Germany.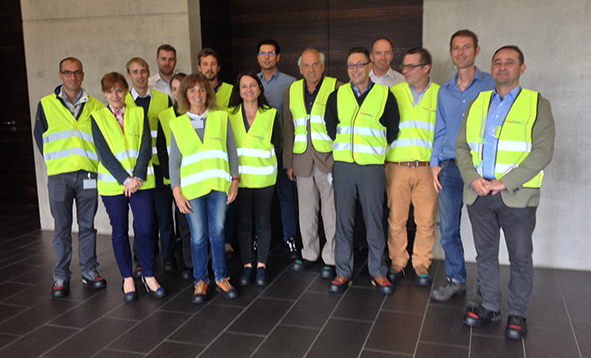 VOLUMETRIQ partners during ElringKlinger facilities tour
---
→ September 2017 - VOLUMETRIQ newsletter 2nd editon

Second edition of the VOLUMETRIQ newsletter is now available for download as a PDF file: Newsletter
---
→ 30 March 2017 - Volumetriq represented at 20th Topical Meeting of the International Society of Electrochemistry, Buenos Aires, Argentina,

19th-22nd March 2017



The goal of the present meeting is to provide a venue where electrochemical researchers working in the fields of lithium batteries and hydrogen fuel cells will have the opportunity to discuss their recent advances and future developments. The scope of the meeting goes from basic research in related electrode reactions to applied electrochemical energy conversion and energy storage, including electrochemical engineering aspects.
Website: http://topical20.ise-online.org/index.php
---
→ 01 March 2017 - Volumetriq represented at FC Expo 2017, Tokyo, Japan, 1-3 March 2017

World's Largest Show for Hydrogen & Fuel Cell - Leading international exhibition showcasing various technologies, components, materials, devices and finished fuel cells for hydrogen and fuel cell R&D and manufacturing.
Website: http://www.fcexpo.jp/en/
---
→ 01 March 2017 - Volumetriq represented at EFCW2017 - FCH-JU European Fuel Cell Car Workshop, Orléans, France, 1-3 March 2017

This Workshop is a unique occasion for discussing both scientific and technological advances within the frame of the FCH-JU projects for having at midterm of H2020 a current status of the excellence research and Innovation in the fields of fuel cell car.
Website: https://efcw2017.sciencesconf.org/
---
→ 26 February 2017 - Volumetriq represented at PFEC 2017 - Polymers for Fuel Cells, Energy Storage, and Conversion, Asilomar, CA, USA, 26-28 February 2017
This conference has had great success as the premier conference bringing together the polymer community and fuel cell scientists. Objective is to engage a broad spectrum of the polymer community in meeting the needs of this technology. There will be scheduled talks that present the vision of the funding agencies and industry to provide perspective followed by talks from leading researchers in proton-conducting electrolyte synthesis, characterization, processing and application.
Website: www.polyacs.net/Workshops/17FuelCells/home.html
---
→ 14-15/02/2017 - VOLUMETRIQ 18M progress meeting

The 18M progess meeting hosted by JMFC was held on 14-15 February 2017 in Swindon, UK.
---
→ 31/01/2017 - VOLUMETRIQ represented at Fuel Cell Fundamentals and Developments, Stuttgart, Germany, 31 January -02 February 2017
Besides presenting scientific and technical advances, the conference is designed to instigate high-level scientific discussions and networking between scientists, laboratories, research institutes, fuel cells suppliers, component manufacturers and industrial end-users.
Website: www.dlr-fdcf.meetingmasters.de
---
→ November 2016 - VOLUMETRIQ brochure & newsletter

First edition of the VOLUMETRIQ brochure and newsletter are now available for download as a PDF file: Brochure - Newsletter
---
→ 21-22/11/2016 - FCH JU programme review days,

21-22 November 2016, Brussels, Belgium



VOLUMETRIQ will be present during the FCH JU Programme Review Days and make an oral presentation the 22nd of November at 9:40.
Website: http://www.fch.europa.eu/page/programme-review-days-2016
---
→ 28-29/09/2016 - VOLUMETRIQ 12M progress meeting

| | |
| --- | --- |
| VOLUMETRIQ partners at the 12M progress meeting | The 12M progess meeting hosted by CNRS was held on 28-29 September 2016 in La Grande Motte, France. |
---
→ 01/08/2016 - CNRS Montpellier takes over the coordination role of VOLUMETRIQ

---
→ 22-24/06/2016 - VOLUMETRIQ represented at the first edition of ELectrospinning for ENergy conference - ELEN2016

The 2016 edition of ELectrospinning for ENergy conference (ELEN 2016) was specifically oriented to the application of nanofibres issued from electrospinning in energy conversion and storage devices. This conference gave the opportunity of exchange between researchers, students and engineers from both academia and industry on recent advances and drawback solutions associated with electrospinning and its application in energy devices.
Website: www.elen2016.eu
---
→ 2-3/02/2016 - VOLUMETRIQ 6M progress meeting

The 6M progess meeting hosted by BMW was held on 2-3 February 2016 in Munich, Germany.
---